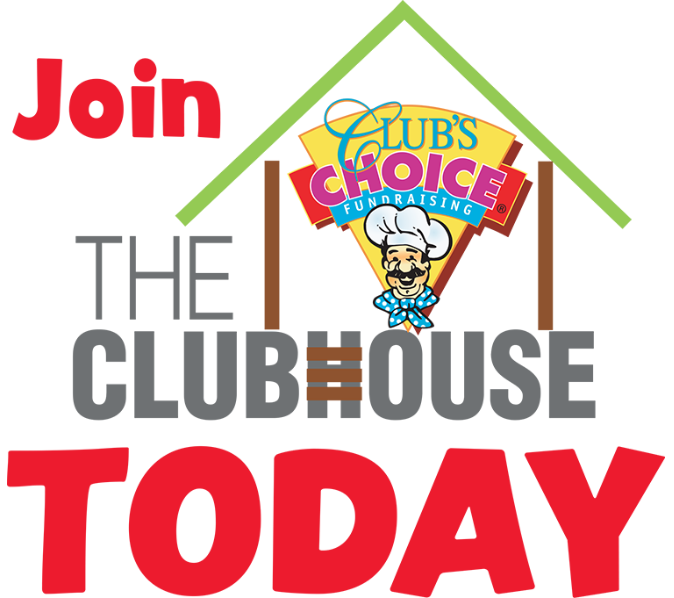 WHAT CAN
YOU

DO?

Join the Clubhouse (Seller Registration) – Each seller enters information about themselves and the fundraiser they are doing. Sellers must be registered in order to participate in special promotional contests. Once the seller is registered, they can participate in sending emails and/or text messages to family and friends regarding their fundraiser. Registration is easy! Click on "Join the Clubhouse". Complete the required info* and you are registered! If you are already registered, click on "Go To My Clubhouse".

*(Don't worry Mom and Dad, we don't share this information with anyone. The information is used for customer service purposes only.)
Do you want to start a fundraiser?

Contest Prizes and Official Rules
In order to qualify for your chance to win, each seller must be "registered" through the Club's Choice Fundraising's Clubhouse Registration link.
Each week, there will be a "WORD OF THE WEEK" posted to our website, inside your Club House, as well as on the Club's Choice Fundraising Facebook page.
To receive a contest entry, text the [WORD OF THE WEEK] to 715-861-6908.
One text entry per week for a total of 40 entries per Seller/Student.
Earn unlimited entries when your family & friends order online. One additional entry earned per online order.

Online orders must be placed through the link you have sent them in the Clubhouse registration tool via text, email or social media.
Prizes and Important Dates
Weekly Mystery Prizes:
Drawings will be held every Friday beginning Friday, August 11, 2017 and ending Friday, May 4, 2018. The final weekly prize drawing will be held Friday, May 4, 2018. Win one many Mystery Prizes to be awarded each week. Weekly prize winners will be notified by their Club's Choice Fundraising Sales Representative through the proper school channels.
Monthly:
Razor Crazy Cart Shift Drawings will be held the first Friday of every month starting September 1, 2017 through May 4, 2018. There are nine monthly drawings with one Razor Crazy Cart Shift being given away each month. Winners will be notified by their Club's Choice Sales Representative through the proper school channels.
Value: $200
Grand Prize Drawing
Win one of 2 Grand Prize Drawings to be given away!
A Grand Prize Disney trip for 4
*Trip includes airfare & hotel, 3 nights & 4 days as well as 4 theme park passes. Winner will get to choose Disney Land or Disney World as their destination.
VALUE: $4,000.
The Hali Hicks Concert Experience!
Live Appearance from Nashville Singer, Songwriter and Recording Artist Hali Hicks! Hali will make a live appearance at the event of your choice (birthday party, family reunion, graduation party, etc) at a pre-approved location. She will perform 2-3 songs, sign autographs, and visit with your friends and family.
VALUE: Priceless
By registering your child through Club's Choice Fundraising Clubhouse Registration, you agree to allow Club's Choice Fundraising to use photos of the winner on their social media pages, should they become one of the winners.
You will ALWAYS have the right to opt out of the photos.
Do you want to start a fundraiser?

Easy Fundraising
No Money Up Front.
Pre-packed product by seller.
Customized reports.
Customized letters and thank-you notes.
Online ordering.
Email selling tool.
Most Profitable
Ordering.
Free Pre-Pack per Seller.
Free Prize Program.
Free Brochures.
School Grants Available.
Invoice At Delivery.
Links